Spotlight on "East of Bliss"
Special feature contributed by Meghann Lambeth, Executive Director of Richmond County Tourism Development Authority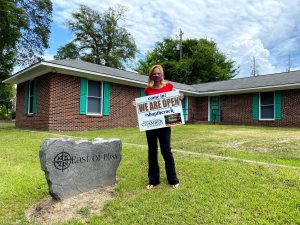 Find Your Getaway in Richmond County downtown Rockingham at the ultimate destination for self-care; East of Bliss. Located at the corner of North Hancock Street and East Greene Street, this all-inclusive zen spa offers a variety of beauty, massage, and skin treatments.
Not only is the name of the business catchy, it is also sentimental as it represents the maternal grandparents of the owner Sierra McQueen-Fowler. A tribute to their influence on her life and upbringing, Sierra coined the middle names of each grandparent when naming her business two years ago. Marie "East" McQueen and Alonzo "Bliss" McQueen were instrumental in teaching her the value of hard work and giving back to the community.
Sierra, licensed esthetician and massage therapist, has a skilled team that delivers premium relaxation services: Donna Burr, licensed massage therapist; Ashley Dawkins, licensed esthetician; and Mandie McFayden, make-up and spray tanning specialist.
Many of their massage modalities are not offered anywhere else in the county. These exclusive services include hot bamboo massage, cupping therapy, hot and cold stone massage, and cold stone facials, among many others. They also offer a sweat and glow sauna, which uses an infrared mat that assists in detoxing, burning calories, and leaves skin with a natural glow.
As for the future, Sierra aims to continue growing and adding specialized services to remain the local wellspring for pampering and self-care. Recently they have added spray tanning and are excited to soon begin offering high frequency and microdermabrasion skin care services.
East of Bliss is open Monday-Saturday by appointment only. You can also schedule visits at https://www.massagebook.com/Rockingham~Massage~EastofBliss?src=external#services.